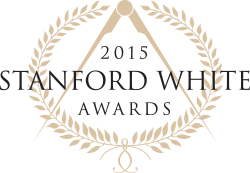 Stanford White Awards
Just announced, the 2015 Stanford White Award Winners.
The New York Chapter of the Institute of Classical Architecture & Art is pleased to announce the fourth annual Stanford White Awards for Excellence in Classical and New Traditional Design. The awards recognize achievement in individual projects in architecture, interiors, landscape, urbanism, and building craftsmanship & artisanship throughout New York, New Jersey, and Fairfield County, Connecticut. The awards program is named in honor of Stanford White (1853-1906), of the distinguished New York firm McKim, Mead & White, whose legacy of design excellence and creativity in architecture and the related arts continues to serve as a source of inspiration and delight.
The 2015 Stanford White Awards Jury was chaired by Stanley Dixon, Suzanne Lovell, and Dell Mitchell.
THE

STANFORD

WHITE

AWARDS

PRESENTATION

&

RECEPTION

Date: Wednesday, December 2, 2015, 6:00-9:00PM
Location: The Prince George Ballroom, 15 E. 27th Street, New York, New York

This year's Stanford White Awards will be hosted by Justin Davidson. Mr. Davidson is critic for architecture and classical music at New York magazine. Before that, he spent 12 years as classical music critic at Newsday, where he also wrote about architecture and was a regular commentator on cultural issues. A 2002 Pulitzer Prize winner, he was born and raised in Rome, and is an alumnus of Harvard and Columbia. He has contributed to The New Yorker, W., Travel and Leisure, the Los Angeles Times, Slate, and Salon, and has appeared on WNYC and NPR. He is currently at work on a book, Magnetic City, an ambler's companion to New York, to be published by Random House.

Tickets are available for $125 per person.
Reservations are required. Call (212) 730-9646 or register online.
The 2015 Stanford White Awards are generously sponsored by
Zen Restoration
S. Donadic, Inc.
Christopher Peacock
Horizon Builders
Peter Pennoyer Architects
Vella Interiors
Bieber Windows and Doors
Eric J. Smith Architect, PC
John B. Murray Architect, LLC
Jonas
Linda London, Ltd.
Marmi Natural Stone
Remains Lighting
RINCK
The Nanz Company
The Urban Electric Co.
Waterworks
Zepsa Industries, Inc.
Images of the 2014 winning submissions can be viewed here.