The Dick Reid Teaching Collection
Dick Reid is one of the world's leading architectural artisans who operated a shop and studio in York, England for almost half a century. During that time, he restored numerous Medieval, Renaissance, and Enlightenment-era buildings in and outside of London, including the Somerset House, Windsor Castle, and the Spencer House. His fields of expertise include modeling, letter-cutting, gilding, cabinet-making, and memorial and heraldic carving. In 2005, Mr. Reid retired and donated the remaining items in his shop to the ICAA. The Dick Reid collection consists of various objects from Dick Reid's restoration and conservation sites, such as chimney pieces, moldings, plaster casts, and skirting pieces.
The cataloguing process of the Dick Reid collection is an ongoing project, which, thanks to the enormous contribution of Lenore Passavanti, continues today. The collection is a valuable teaching aid for ICAA instructors and students and is open to the general public by appointment. Please contact education@classicist.org or call 212-730-9646 × 116 to schedule a visit. Below is a small sample of the diverse pieces of the Dick Reid Collection at the ICAA.

Savoy Theatre – Center Boss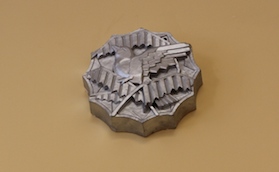 Period of Original: 1881
Provenance: Savoy Theatre, the Strand in the City of Westminster, London
Condition: Modeled and cast after a fire in the 1990's.
Architect(s): C. J. Phipps. Interior fully redesigned in 1929, as follows: Architecture, Frank A. Tugwell. Interior design, including reliefs: Basil Ionides




Cast Squeeze of Chimneypiece of Homer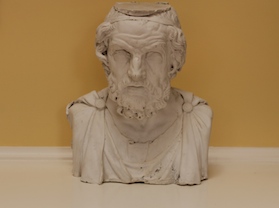 Period of Original: 1756 – 1766
Provenance: Spencer House, London; Palm Room
Architect(s): James 'Athenian' Stuart, 1756 – 1758; John Vardy, 1758 – 1766.










Sample of Rococo Scroll



Description: Composition detail developed 1765 – 1775. Swish architectural detail on base.
Period of Original: 1765 – 1775
Provenance: Unknown
Architect(s): Various Architects



Cross from the Sheffield Cathedral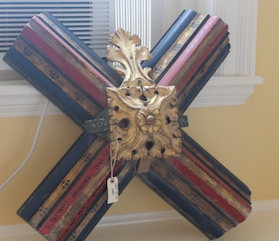 Description: Chapel roof coffered ceiling mock-up used in 1980's by architect Donald Buttress to finalize
the color scheme and size of chapel ceiling
Period of Original: 13 century – 16th century
Provenance: The Cathedral Church of St Peter and St Paul, Sheffield; St George's Side Chapel
Architect(s): Donald Buttress










Wood Mock-up of Stone Memorial for Mary de St. Pol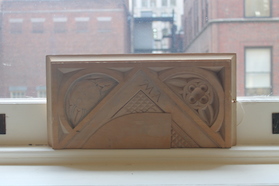 Description: On Christmas Eve 1347, Edward III
granted Mary de St. Pol, the Countess of Pembroke, a license for
the foundation of Pembroke College, the earliest Cambridge
College to survive on its original site with an unbroken
constitution from its first foundation.
Period of Original: 1503-1519.
Provenance: Westminster Abbey, London; Chapel of Henry VII
Architect(s): Unknown





Plaster Cast of a Chimneypiece Capital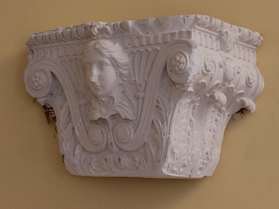 Description: Taken from an original now in Althorp's Great Room chimneypiece in Northamptonshire.
Period of Original: 1756 – 1766
Provenance: Spencer House, London; Great Room
Architect(s): James 'Athenian' Stuart, 1756 – 1758; John Vardy, 1758 – 1766.