Courses
Advanced Classical Elements: ArchesRegister Now!
Saturday, October 21st; 9:00 A.M. - 2:00 P.M.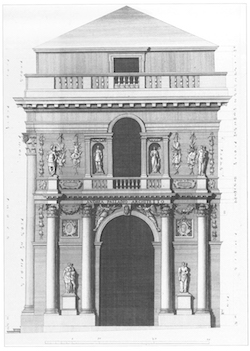 This course will examine the typology, design, and construction of various traditional arches and arcades. An illustrated lecture will introduce the nomenclature of the components of an arch, how arches and arcades are composed as a system of proportions and geometry, and how they have been employed in great buildings, symbolic gateways, and urban spaces throughout history. Through freehand drawing, students will layout the primary types of arches, culminating with the study of the Renaissance Palladian Motif, which combines the semicircular arch with a classical order. The course will conclude with a visit to the New York Public Library, to study and draw examples of arches designed by Carrere and Hastings.
Instructor: Mason Roberts; Martin Brandwein (TA)
Pre-Requisites: None
Cost: $75 for members, $115 for non-members
Meeting Location: 20 West 44th Street, Suite 310, New York, NY 10036
Required Materials: Large format unlined paper – 11 × 14 bound sketchbook that can be opened and laid flat is ideal, soft lead drawing pencils, pencil sharpener, and eraser. Scale, compass, and dividers are optional.
Credits: 5 AIA LUs and 5 credits towards the Certificate in Classical Architecture