Courses
Building Craft: Wooden Doors and EntrywaysRegister Now!
Tuesday, November 28th; 6:00 P.M. - 9:00 P.M.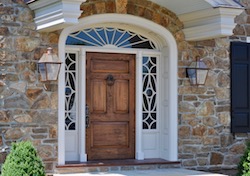 Perhaps no other element is a better microcosm of a building's design than the entryway. As a primary component of the facade, the entryway is one of the most important features of a building to design and construct well. This class will take a retrospective look at wooden doorways, their design and construction methods, and how they have evolved through the history of American building styles. Also covered will be design characteristics of wood, wood species selection, and good practice in wood decor and entryway fabrication. This course provides architects, designers, and craftsmen with answers to common questions, solutions to problems of design, and guidelines for best practices. It will conclude with a case study of the design of a wooden entryway.
Instructor: Steven Hendricks
Pre-Requisites: None
Cost: $80 for members, $100 for non-members
Meeting Location: 20 West 44th Street, Suite 310, New York 10036
Required Materials: Sketching pens and pencils, straight edge, and a notebook
Credits: 2 AIA HSW Credits and 2 credits towards the Certificate in Classical Architecture