Courses
Introduction to Architectural Rendering in Pencil Register Now!
Saturday, February 25th & Saturday, March 4th; 9 AM - 3:30 PM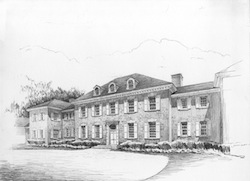 Pencil rendering is a timeless technique that allows any artist the ability to create beautiful drawings with the most minimal supplies; pencil and paper. This course will look at historical precedent to analyze, critique and incorporate drawing techniques into individual architectural drawings. With an emphasis on form, light and composition, students will learn the guiding principles to creating effective pencil architectural renderings.
Instructors: Joseph Zvejnieks
Pre-Requisites: None
Cost: $245 for ICAA members, $270 for non-members,
Meeting Location: 20 West 44th Street, Suite 310, New York, NY
Credits: 11 AIA LUs
Materials: Pencils – 4H, 3H, 2H, H, F, B, HB, 2B, 3B, Mars Eraser, Kneaded Eraser, Drawing Paper (in the 9 × 12 range), Sketch Book, Small Board (illustration board) to tape working drawings onto