Courses
Introduction to Classical Elements: The Tuscan OrderRegister Now!
Monday December 14th and Tuesday December 15th; 6:30 PM – 8:30 PM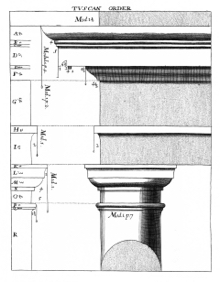 This course provides an introduction to the Tuscan Type. Participants will learn the history and how to draw the Tuscan Order as codified by the architect Vignola. The class will include a powerpoint of informative and inspiring imagery and one-on-one instruction.
Instructor: Rodrigo Bollat Montenegro, Ferguson & Shamamian Architects
Location: 20 West 44th Street, Suite 310, New York, NY
Pre-Requisites: None
Recommended Materials: Sketchbook, drawing pencils, eraser, pencil sharpener, architect's scale, triangle straight edge. Optional: Compass or dividers.
Continuing Education: 4 AIA LUs
Please email education@classicist.org or call (212) 730-9646 × 111 with questions about the course or registration.