Courses
Observational Drawing Skills for Architects & DesignersRegister Now!
3 Sessions: October 10th, 11th, and 12th; 6:30 P.M. - 9:00 P.M.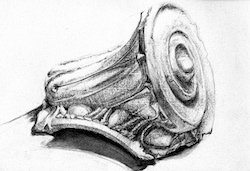 This class introduces techniques of rendering three-dimensional forms on a two-dimensional surface. The emphasis will be divided between the observation and analysis of light, the medium of vision, and how to suggest its effects in rendering, the essence of drawing. The course will introduce the basic principles of light-revealing forms, form shadow and cast shadow, reflected light and highlights, and, through a series of dark to light value studies, the rendering of geometric still-life shapes and plaster casts. Continual reference will be made to the human body, which is the main reference point to all classical design.
Instructor: John Woodrow Kelley, ICAA Fellow; Eric Santoli (TA)
Pre-Requisites: None
Cost: $130 for members, $160 for non-members
Meeting Location: 20 West 44th Street, Suite 310, New York, NY 10036
Required Materials: choice of charcoal or conte chalk (black and white), choice of 18 × 24 inch Strathmore charcoal paper or 18 × 24 sheets of toned pastel paper, kneaded eraser, and notebook
Credits: 7 AIA LUs and 7 credits towards the Certificate in Classical Architecture