Courses
The Study of Precedents in Architectural Composition: The Art of Measured Field DrawingRegister Now!
Thursday, May 4 & Saturday, May 6; Thursday, 6:30 - 9:30 pm & Saturday, 9 am - 12 pm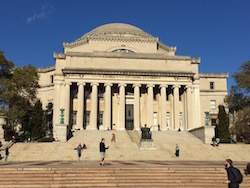 This course will introduce the student to a method of sketchbook drawing that is focused on accurately measured drawings of accessible architectural details, drawn-to-scale in a sketchbook. This course will emphasize analytical orthographic drawings of plan, section, elevation and profile. Subject matter for measuring and drawing can range from large-scale urban elements, such as squares, streets, street sections, courtyards, gardens, etc., to small details such as doorways, windows, stairs, ornamental stone carving, column capitals and bases, mouldings, ironwork, millwork, paving, etc.
The course is intended for both students and seasoned architects, as drawings can be tailored to experience level.
Instructor: Stephen Chrisman, Fellow of the ICAA and Senior Associate, Ferguson & Shamamian Architects, New York
Location: 20 West 44th Street, New York, NY 10036
Cost: $190 for members, $230 for non-members
Credits: 6 AIA LUs
Materials: Sketchbook; hardbound (+/-) 6" x 9", stitched binding so the book can open flat, (Suggested; Sennelier Natural Linen Sketchbook 24×16cm, available from L. Cornelissen & Son, London, ?www.cornelissen.com), 12" triangular architects scale, with 1/8", 1/4", 3/4", 1 1/2" and 3" scales, Mechanical pencil with 0.5 HB lead. (Alvin Draft/Matic or similar), Eraserstick; (Tuff Stuff Eraser Stick or similar), 12ft steel tape measure in feet and inches, to the 1/16", Laser measure (option), Folding wooden rule, 6ft (option), Small pencil bag or case to keep drawing supplies.