Courses
Theory & Practice of Classical Interior DesignRegister Now!
Thursday, April 20th & Saturday, April 22nd; Thursday, 6:30 - 8:30 pm & Saturday, 9 am - 3 pm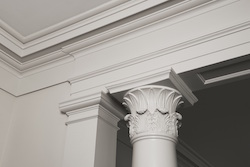 This two-session course will introduce the fundamental philosophy and elements of traditional architecture and their interiors. Participants will learn the design principles that are common to the great buildings and interiors of the past. Topics will include discovering the proportions common to traditional interiors and mastering simple yet time tested methods of designing and configuring baseboards, cornices, columns, mantle pieces, and door and window casings.
Instructor: James Collins
Meeting Location: 20 West 44th Street, Suite 310, New York, NY
Cost: $160 for members, $190 for non-members
Credits: 7 AIA LUs
Materials: Architectural Scale, Adjustable Triangle (Set square), Drafting Leads, Lead Holders, Lead Pointer, Erasers, Erasing Shield, Circle Template, Masking Tape or Drafting Dots, 12" Roll of Tracing Paper & 18" X 24" Vellum Sheets