Christopher H. Browne Rome Drawing Tour & ScholarshipsRegister Now!
June 2 - 9, 2018
Examining the Classical Tradition in Rome through Drawing and Watercolor
The Christopher H. Browne Rome Drawing Tour provides participants practical knowledge of the classical tradition as manifested in the architecture, urbanism and landscapes of Rome. The means for studying Rome's wealth of architectural and urban precedent is through observational drawing and watercolor.
COURSE DESCRIPTION
Drawing is a tool for understanding the world around you. It provides one with a way of thinking about the things they see. During the course of this drawing tour participants will undertake the challenge of developing their skills in representing complex three-dimensional forms.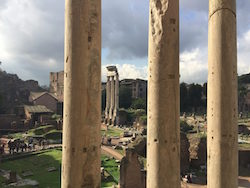 Participants will examine the works of artists and architects while seeing what they saw in-situ throughout the city of Rome. Participants will use their works as benchmarks to emulate and surpass. In this manner participants will actively engage the tradition as a means for not only to developing individual drawing techniques for documenting the world around us but also to provide participants with tools for seeing. The class will make use of a variety of media and techniques in the undertaking of drawings that will entail a variety of scales from the human figure, building detail, building, piazza and city. The course will explore a number of techniques and subject matter. The subjects will include the figure, architecture including architectural details, plan section and elevation, and landscape. Particular attention will be placed on perspective, especially two point views, lighting, shades and shadow.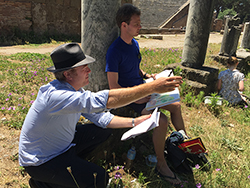 There are no prerequisites for the program.
CREDITS
50 AIA LUs
TUITION AND FEES
Tuition for the Christopher H. Browne Rome Drawing Tour is $2,700 ($2,600 for ICAA members). Travel to and from Rome, course materials, and accommodation for the duration of the course is not included in the cost. Participants may pay by credit card when registering online or by mailing a check made out to the Institute of Classical Architecture and Art with "Rome" in the memo.
SCHOLARSHIPS
The Christopher H. Browne Drawing Tours honor the generosity,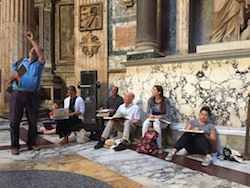 leadership, and legacy of the Institute of Classical Architecture & Art's late Trustee, Mr. Christopher H. Browne.
The ICAA is pleased to award four scholarships to drawing tour students annually in the name of Mr. Browne, a long-time supporter and champion of classicism. Scholarship recipients will receive the moniker "Christopher H. Browne Scholars."
The deadline for completed scholarship application forms is April 6, 2018.
The following materials are required for consideration for a scholarship:
• Completed Scholarship Application Form
• A brief letter describing why you are interested in, and how you will benefit from the program
• Examples of your work: suggested 3-4 images submitted as PDFs
• Resumé or Curriculum Vitae
• Letter of Recommendation
• Brief Biography (no more than one or two paragraphs)
INSTRUCTORS: To be announced
Itinerary for the tour will be released in the coming months.
Materials can cost upwards of $100—please contact education@classicist.org for more information on required materials.