The Globalization of Modern Architecture: The Impact of Politics, Economics, and Social Change on Architecture and Urban Design Since 1990Register Now!
Tuesday, September 16, 2014; 6:30 pm Reception and Book Signing; 7:00 pm Lecture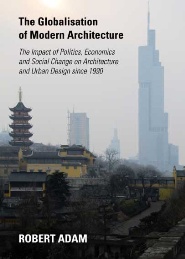 The ICAA is pleased to partner with the General Society of Mechanics & Tradesmen to present Robert Adam, architect, thinker, educator, and author in a rare U.S. appearance. His recent publication by the title above tackles putting architecture–including traditional architecture–into its wider social, political, and economic perspective to find meaning in the forces that shape how we build and live. Based on the principle that design unavoidably follows social change, politics, and economics, Mr. Adam will compare development in architecture and urban design that shifted along with the balance of power from 1990 until the 2008 Western financial crash. By comparing past patterns of cultural influence, and the recent global idolization of the star architect, Adam speculates on how architecture and urban design may come to reflect wider global trends.
Robert Adam was born in England in 1948 and received his architectural education at Westminster University. He was a Rome Scholar in 1972-3 and in 1977 became a director of the architectural and urban design practice now known as Adam Architecture. Adam is a visiting professor in urban design at Strathclyde University. He has published and lectured widely on architecture, urban design, heritage policy, design philosophy, and history in Europe, Asia, and the Americas. As well as contributing to several books, Adam co-edited Tradition Today and is the author of Classical Architecture, A Complete Handbook, Buildings by Design, and The Seven Sins of Architects.
Location: Library at the General Society, 20 West 44th Street, New York, NY. Space is limited and reservations are recommended. To reserve, call (212) 730-9646, ext. 104 or register online.
Cost/Continuing Education Hours: FREE for ICAA members and employees of professional member firms; FREE for full-time students with current ID and FREE to members of the General Society. $30 for the general public. 1 AIA/CES LU is available.