ICAA Utah presents an Exhibition for Edward J. Fraugton
May 2 – 7, 2014; Documentary on Friday, May 2; 6:30 pm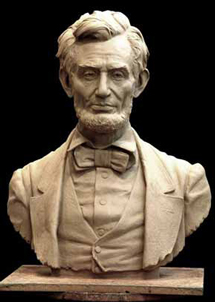 Celebrate with native Utahn Ed Fraughton in New York City! Ed is the recipient of the prestigious 2014 Arthur Ross Award. A documentary on his work will be premiered Friday, May 2, before the Arthur Ross ceremony. Both the sculptor, Edward J. Fraughton and the film maker, Steven Robert McCurdy, will be at the opening of the event to make comments and take questions. A modest exhibition of Ed's work will be on display from May 2nd through May 7th.
A native of Park City, Utah, Edward J. Fraughton won his first art award at the age of ten. He credits his Milton Bradley "America the Beautiful" Crayon Art Competition prize to his mother, Clara, and his Fourth Grade school teacher, Mrs. Aline Gibbons. His stepfather, Charles "Zip" Nelson, inspired his great love for Western History. After a rich childhood he studied at the University of Utah under the renowned Beaux Arts sculptor, Dr. Avard T. Fairbanks. By 1962, Ed had completed his BFA Degree and post graduate studies in sculpture. Today Ed creates monumental sculpture that inspires viewers to move around it so they can appreciate it from many angles. Some of his well known monumental commissions throughout the United States include The Spirit of Wyoming, The Cadet, John Wayne, Clearing the Haul-Way, Pioneer Courage Monument.
DOCUMENTARY
Friday, May 2, 2014; 6:30 pm
EXHIBITION
May 2–7, 2014; 11:00 am–7:00 pm*
*Sunday hours from 1:00–5:00 pm
Location: The General Society Library and Balcony, The General Society of Mechanics
& Tradesmen, 20 West 44th Street, New York, NY.
Open to the public.
For more information, please call for email: DeAnn Sadleir (801) 915-4848, deannsadleir@gmail.com.