14th Annual McKim Lecture with Francis MorroneRegister Now!
Wednesday, March 4, 2015; 6:15 PM Reception; 6:45 PM Lecture; Optional Dinner Follows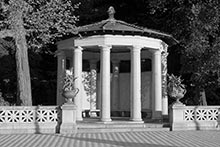 This event is generously sponsored by Hyde Park Mouldings.
The Institute of Classical Architecture & Art (ICAA) partners annually with The University Club and the One West 54th Street Foundation to present the Annual McKim Lecture, this year featuring Francis Morrone on Wednesday, March 4. The topic of the lecture will be "The City Beautiful and the Urban Landscape in America." The talk will explore the movement to beautify America's cities in the late 19th and early 20th centuries, the impact and legacy of that movement, its relevance today, and the many misconceptions about it (including that of Jane Jacobs). All of this will be discussed with specific reference to the contributions of McKim, Mead & White.
Mr. Morrone is an architectural historian and writer, known best for his work on the built history of New York City. His ten books include The Architectural Guidebook to New York City, An Architectural Guidebook to Brooklyn, and The New York Public Library: The Architecture and Decoration of the Stephen A. Schwarzman Building. Mr. Morrone's essays on architecture have appeared in the Wall Street Journal and New York Times, among others, and he was a columnist for the New York Sun for six and a half years. He teaches at New York University's School of Continuing and Professional Studies and received the university's Excellence in Teaching Award. Mr. Morrone has been named by Travel + Leisure magazine as one of the 13 best tour guides in the world, and in 2012 he received the Arthur Ross Award from the ICAA.
Location: College Hall at the University Club, One West 54th Street, New York, NY 10019. RSVP required. Reserve online or call (212) 730-9646, ext. 104 to register.
Note: The University Club requests jacket and ties for gentlemen, equivalent for ladies.
Cost/Learning Unit: $75.00 per person for Cocktail Reception and Lecture; $150.00 per person for Cocktail Reception, Lecture, and Dinner. 1 AIA/CES CEH is available.
The Annual McKim Lecture is a collaboration between the Institute of Classical Architecture & Art (ICAA) and the One West 54th Street Foundation. The One West 54th Street Foundation is a not-for-profit organization established to preserve the architectural integrity and design of the University Club, a New York Historic Landmark building. The Foundation also provides scholarship to students, including those at the ICAA enrolled in its full array of programmatic offerings.