Breakfast & Books Series with Michael G. Imber
Wednesday, September 28, 2016; 9:00am Breakfast, 9:30am Lecture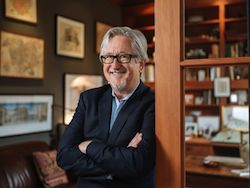 Registration for this event is currently closed. For further inquiries, please contact development@classicist.org
The Institute of Classical Architecture & Art is pleased to announce the next event in the Breakfast & Books Series presented in partnership with the Rizzoli Bookstore. Once again, the Rizzoli Bookstore will be opening its doors before store hours on Wednesday, September 28th, exclusively for ICAA members and guests, to host a discussion with renowned architect Michael G. Imber who will be speaking about Americans in Florence.
Michael G. Imber will discuss how America, especially New England and New York, found Tuscany to be the embodiment of history and humanity, essential to the development of "Yankee Taste" in the burgeoning years following America's Civil War. The talk follows John Singer Sargent, born of American parents in Florence, and his compatriots and friends, John La Farge, Maxfield Parrish, Edith Wharton, and William Morris Hunt, as they seek to enrich their understanding of landscape and culture by living among the Tuscan landscape.
Michael is the principal architect of Michael G. Imber, Architects, PLLC, a modern classical design firm based in San Antonio, Texas, recognized for a body of work that is strong in historic sentiment yet modern in its execution.
Michael has been honored with numerous local and national design awards, notably being honored with an Arthur Ross Award for his enduring commitment to the classical tradition in residential architecture, civic buildings and neighborhood design. He was inducted into the American Institute of Architects' College of Fellows for his contribution to American design as well as being honored with the Texas Society of Architects' William W. Caudill, FAIA award for his achievements as a young architect and for his contributions to the American Institute of Architects. He has won four National Palladio Awards for Outstanding Achievement in Traditional Design as well as numerous Texas ICAA Staub Awards and AIA Awards. He was named "Master of the House" by Southern Accents Magazine and was the designer of the 2009 "Idea House" in Galveston, Texas for Coastal Living Magazine, as well as the 2011 "Idea House" for Southern Living Magazine.
Michael was founding president of the ICAA Texas Chapter and he currently serves as a board member of the Sir John Soane's Museum Foundation in New York. Rizzoli Press released a monograph of his work in 2013, Michael G. Imber: Ranches, Villas, and Houses.
Location: The lecture and breakfast will take place at the Rizzoli Bookstore, 1133 Broadway between 25th and 26th Street, New York, NY 10010.
Cost/Reservations: Free for ICAA Members; $30 General Public. Reservations are required.
This lecture is Co-hosted by The Rizzoli Bookstore and the New York Chapter of the ICAA.