Tales of Loss & Redemption: The Country House in the National Trust
Tuesday, April 28, 2015; 6:00 PM; Reception to Follow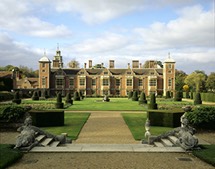 From the 1880s through the 1930s, Britain experienced a revolution in land ownership only paralleled in its history by the Norman Conquest and the Dissolution of the Monasteries. Britain's landed elites found themselves under attack by the forces of modernity on all fronts, and their bastions, the country house, fell to the auction block and the wrecker's ball in increasing numbers throughout the first half of the 20th century. Into this breach in the fabric of British landed society stepped a reluctant new force of social order, the National Trust.
The Royal Oak Foundation's Executive Director, Dr. Sean E. Sawyer will discuss the National Trust's role in rescuing some of Britain's greatest country houses and their internationally significant collections of decorative and fine arts.From a reluctant recipient of a handful of houses in the 1920s, the Trust evolved, through its Country Houses Scheme, to lead the way in preserving houses and collections through the bleakest years of the post-World War II era. The last decades of the 20th century saw a revival of fortunes for the country house and the Trust's adaptation as its role as a leading operator of visitor attractions. This is a story full of deaths, both mortal and material, and of daring rescues and bureaucratic blindness. This illustrated lecture will explore some of the Trust's most important properties, including Blickling and Hardwick Hall, and of the families and great characters who haunt them still.

Sean Sawyer became the Executive Director of The Royal Oak Foundation in October 2010. He received his B.A. from Princeton and his Ph.D. from Columbia University, specializing in British architectural history. Dr. Sawyer has taught at Columbia, Fordham and Harvard universities as well as The Parsons/New School Master's Program in the History of Decorative Arts & Design at the Cooper-Hewitt. He has published a variety of articles on Sir John Soane and late-Georgian architecture and urbanism as well as Dutch-American history and architecture. From 2001 to 2007 he served as Executive Director of the Wyckoff Farmhouse Museum in Brooklyn, NY. In 2002 he attended the Attingham Summer School as a Royal Oak Fellow.
Location: The Explorers Club, 46 E 70 St (bet Park & Madison), New York, NY. Registration is required.
Cost/Reservation: $30 for Members of the Royal Oak and the ICAA, $40 for non-members. R*eservations and payment will be taken by the Royal Oak Foundation.* Visit the Royal Oak Foundation website to reserve, or call 212-480-2889, ext. 201. The co-sponsor code for the lecture is: 15SICAANY.