Will Development Destroy Paris?Register Now!
Thursday, January 22, 2015: 6:30 PM Reception; 7:00 PM Lecture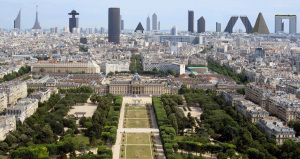 The Institute of Classical Architecture & Art is pleased to present: Will Development Destroy Paris? in partnership with the General Society of Mechanics and Tradesmen.
The current administration of Paris is working with developers and architects to bring innovative architecture, as it says, to Paris. Despite the wishes of Parisians, City Hall is moving ahead on three skyscraper projects at the periphery of the city. Pritzker Prize winners designed them all. It has sponsored controversial renovations of landmark locations, and it has also announced a competition for 23 sites that the city owns. Where is Paris heading? That is the question.
Mary Campbell Gallagher, J.D., Ph.D., was trained as a lawyer at Harvard, and she holds the Ph.D. in linguistic theory from the University of Illinois. She is on a mission to help protect the beauty of Paris. She is president of a new U.S. association called Americans for the Preservation of Paris (APP). She serves as U.S. liaison for the established French architectural preservationist association SOS Paris, and she serves on the Advisory Committee of the new graduate program in Historic Preservation of the School of Architecture of the University of Notre Dame. She has written widely on preservation in Paris, and she has spoken on that subject both in New York and in Paris. In cooperation with SOS Paris, she is editing a book of essays opposing construction of new skyscrapers in Paris.
Location: Library at the General Society, 20 West 44th Street, New York, NY. Space is limited and reservations are recommended. Reserve online or call (212) 730-9646, ext. 104.
Cost: FREE for ICAA members and employees of professional member firms; FREE for General Society members; FREE for full-time students with current ID. $30 for the general public.