2015 Stanford White Awards
Wednesday, December 2, 2015; 6:00-9:00pm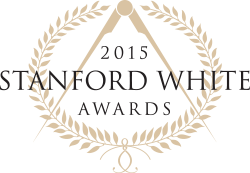 This event is sold out.
Please contact ICAAStanfordWhiteAwards@gmail.com to place your name on the wait list or for further ticket inquiries.
Co-sponsored by the ICAA New York Chapter
The Institute is honored to host this year's awards presentation and reception at the newly restored Prince George Ballroom, originally designed by architect Howard Greenley in the Beaux Arts style in 1904 as part of The Prince George Hotel.
Location: The Prince George Ballroom, 15 East 27th Street (Between 5th and Madison Avenues) New York, NY 10016
This year's Stanford White Awards will be hosted by Justin Davidson. Mr. Davidson is critic for architecture and classical music at New York magazine. Before that, he spent 12 years as classical music critic at Newsday, where he also wrote about architecture and was a regular commentator on cultural issues. A 2002 Pulitzer Prize winner, he was born and raised in Rome, and is an alumnus of Harvard and Columbia. He has contributed to The New Yorker, W., Travel and Leisure, the Los Angeles Times, Slate, and Salon, and has appeared on WNYC and NPR. He is currently at work on a book, Magnetic City, an ambler's companion to New York, to be published by Random House.
Tickets are available for $125 per person. Reservations are required.
The 2015 Stanford White Awards are generously sponsored by:
Zen Restoration
S. Donadic, Inc.
Christopher Peacock
Horizon Builders
Peter Pennoyer Architects
Vella Interiors
Bieber Windows and Doors
Eric J. Smith Architect, PC
John B. Murray Architect, LLC
Jonas
Linda London, Ltd.
Marmi Natural Stone
Remains Lighting
RINCK
The Nanz Company
The Urban Electric Co.
Waterworks
Zepsa Industries, Inc.
For information on sponsoring the 2015 Stanford White Awards, contact Kathleen Maloney, Associate Director of Development, at kmaloney@classicist.org or call 212-730-9646 ext. 106.