Lectures, Tours, Events
17th Annual McKim Lecture with Norman Davenport AskinsRegister Now!
Wednesday, March 7, 2018; 6:15pm Reception, 6:45pm Lecture, Optional Dinner Follows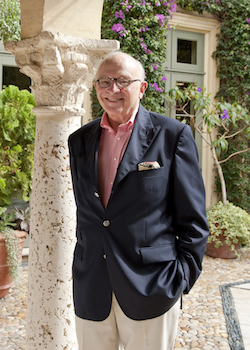 The Institute of Classical Architecture & Art (ICAA) is proud to partner with the University Club and the One West 54th Street Foundation to present the Annual McKim Lecture – named in honor of renowned architect, Charles McKim. Norman Davenport Askins will deliver the 2018 lecture, entitled "Midcentury Classicism to Modern Traditionalism" on Wednesday, March 7th, 2018 at the University Club.
With nearly 50 years of work in the field of architecture, Norman Davenport Askins has maintained a crucial role in shaping the custom residential landscape of Atlanta's finest neighborhoods. Askins has produced stunning architectural works across the country, designing homes and renovations that are meticulously researched for period accuracy and authenticity down to the last detail. A master of period architecture and interiors, period detailing, color, and the decorative arts, Askins holds a profound passion and enthusiasm for classicism.
A native of Birmingham, Alabama, Askins holds a Bachelor of Architecture degree from Georgia Institute of Technology and a Master of Architectural History from the University of Virginia. During his studies, Askins also attended a summer session at Parsons School of Design and the Attingham Park Summer School in England, where he studied architecture and the decorative arts of Great Britain.
Following graduate school, Askins served four years as an architecture and architectural historian at the Colonial Williamsburg Foundation where he received in-depth training in early building technology and the philosophy of restoration. While at Williamsburg, Askins was fortunate to be assigned to a yearlong special project to redesign much of the interior of the Executive Office Wing of the White House. Askins' professional experience also includes three years as Director of Restoration at John Milner Associates in West Chester, Pennsylvania, the nation's largest and foremost preservation and restoration firm.
In addition ti his substantial body of built work, Askins prides himself on the success of his former employees. Eighteen former employees from his firm, Norman Davenport Askins, P.C., have started their own successful design studios promoting the practice of classical and traditional design and maintaining Askin's legacy as a mentor and master of his craft.
Location: College Hall at the University Club, One West 54th Street, New York, NY 10019.
Cost/Reservations: Reservations are required. $85.00 per person for Cocktail Reception and Lecture; $175.00 per person for Cocktail Reception, Lecture, and Dinner.
Note: The University Club requires jacket and ties for gentlemen, equivalent for ladies.
The Annual McKim Lecture is a collaboration between the Institute of Classical Architecture & Art (ICAA) and the One West 54th Street Foundation. The One West 54th Street Foundation is a not-for-profit organization established to preserve the architectural integrity and design of the University Club, a New York Historic Landmark building. The Foundation also provides scholarship to students, including those at the ICAA enrolled in its full array of programmatic offerings.