Lectures, Tours, Events
2017 OHNY Weekend
Saturday, October 14, 2017; 12:00 P.M. - 4:00 P.M.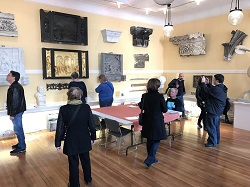 For two days each October, Open House New York (OHNY) Weekend unlocks the doors of New York City's most important buildings, offering an extraordinary opportunity to experience the city and meet the people who design, build, and preserve New York.
In partnership with OHNY, the ICAA will be opening the doors to its Cast Hall on the 6th Floor of The General Society of Mechanics and Tradesmen. The Cast Hall features a collection of rare plaster casts, commissioned by the Metropolitan Museum of Art in the 1880's-90's. The Cast Hall opened in 2015 and features plaster replicas of timeless works of art such as the Roman Discobolus, panels from Ghiberti's Gates of Paradise at the Basilica Di Santa Maria Del Fiore, and the Roman Diadoumenos.
There will be modeling dough and a crafting area in the Cast Hall for children to make modeling dough sculptures of the plaster casts. Parents must supervise their children, as there will not be staff on duty for supervision.
Location: ICAA Cast Hall, 20 West 44th Street, 6th Floor, New York, NY 10036
Cost/Reservations: No registration required. Free and open to the public on a drop-in basis during the hours indicated.
Please contact jholt@classicist.org with inquiries.