Lectures, Tours, Events
Breakfast & Books with Allan GreenbergRegister Now!
Wednesday, October 25, 2017; 9:00 A.M. Breakfast, 9:30 A.M. Lecture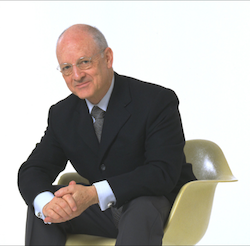 The Institute of Classical Architecture & Art is pleased to announce the next event in the Breakfast & Books series, in partnership with Rizzoli Bookstore. Once again, the Rizzoli Bookstore will welcome ICAA members and guests before store hours on Wednesday, October 25th, for a discussion with renowned architect, Allan Greenberg of Allan Greenberg Architect, LLC. Allan will be discussing the book Julius Shulman Los Angeles: The Birth of a Modern Metropolis by Douglas Woods and Sam Lubell.
Born in Johannesburg, South Africa, Allan Greenberg was educated at the University of Witwatersrand, where he trained in classical, Gothic, and modern architecture. He worked for leading Scandinavian modernist architect Jørn Utzon, with whom he worked on the Sydney Opera House. After receiving his Master of Architecture degree from Yale University in 1965, he spent two years in the City of New Haven's Redevelopment Agency and later served as Architectural Consultant to Connecticut's Chief Justice from 1967 to 1979. He received his U.S. citizenship in 1973.
His publications include George Washington, Architect, The Architecture of Democracy: American Architecture and the Legacy of the Revolution, Lutyens and the Modern Movement, and two monographs of his work. In 2006, Greenberg was the first American to be awarded the Richard H. Driehaus Prize for Classical Architecture, in recognition for built work and scholarship that has enriched the American architectural and cultural landscape.
Light refreshments will be available before the presentation, with the opportunity to purchase books afterwards.
Location: The lecture and breakfast will take place at the Rizzoli Bookstore, 1133 Broadway between 25th and 26th Street, New York, NY 10010.
Cost/Reservations: Free for ICAA Members; $30 General Public. Reservations are required.
This lecture is co-hosted by The Rizzoli Bookstore.