Lectures, Tours, Events
George Hadfield: Architect of the Federal City, with Dr. Julia King
Tuesday, April 18, 2017; 6:30pm Reception, 7:00pm Lecture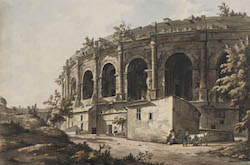 Registration for this event is now closed. If you have any questions, please contact development@classicist.org
The ICAA is pleased to present a lecture with Dr. Julia King, in which she will be discussing her recent book, George Hadfield: Architect of the Federal City.
During his lifetime, the work of the neoclassical architect George Hadfield (1763-1826) was highly regarded, both in England and the United States. Since his death, however, Hadfield's contributions to architecture have slowly faded from view, and few of his buildings survive. In order to reassess Hadfield's career and work, this talk draws upon a wide selection of written and visual sources to reconstruct his life and legacy. Dr. King will examine projects including the Capitol, Arlington House, and Old City Hall.
Dr. Julia King holds her PhD from Birkbeck College, University of London, as well as an MA in Publishing from Oxford Brookes University and a BA in the History of European Art from the Courtauld Institute, University of London. She was a Fellow of the United States Capitol Historical Society, as well as the Royal Society of Arts, and served as the Executive Director of the Mills Society from 1984-1987. She has taught at East Tennessee State University, the University of Reading, and the Newport College of Art and Design, among other colleges. At present, Dr. King is a consultant historian and author of many works including, The Flowering of Art Nouveau Graphics, Equestrian Monuments, and George Hadfield: Architect of the Federal City.
Location: The ICAA's Library at 20 West 44th Street, Suite 310.
Cost/Reservations: Free for ICAA members, $30 General Admission.
Image credit: George Hadfield, Theatre of Marcellus, Courtesy of Sir John Soane's Museum