Lectures, Tours, Events
Green-Wood's Victorian Artists, Artisans and Architects
May 6, 2017; 10:30 A.M. - 12:30 P.M.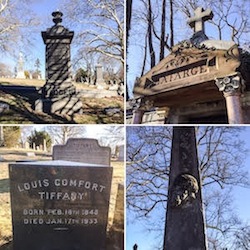 Registration for this event is now closed. If you have any questions, please contact programming@classicist.org
Green-Wood is internationally recognized as one of the most beautiful and historic cemeteries in the world. Established in 1838, it is among a handful of cemeteries in the United States to have been honored as a National Historic Landmark. Green-Wood's 570,000 "permanent residents" include many prominent Victorian artists, artisans and architects—including Louis Comfort Tiffany, John La Farge, Daniel D. Badger, James Bogardus, Eastman Johnson, William Merritt Chase and John George Brown, to name a few. Join cemetery president Richard J. Moylan and historian Jeff Richman for an exclusive behind-the-scenes tour of Green-Wood's collection of drawings, paintings, documents and ephemera related to these and other influential figures interred there. A Trolley Tour of Green-Wood's picturesque Victorian grounds led by the cemetery's historian will follow.
Location: Green-Wood, 500 25th Street, Brooklyn, NY 11232
Cost/Reservations: Registration is required, capacity is limited. $30 for general admission. Free for ICAA members and students.