Lectures, Tours, Events
Hamilton Grange: Relocation and Restoration of Alexander Hamilton's Home
Tuesday, September 12, 2017; 5:00 P.M. - 7:00 P.M.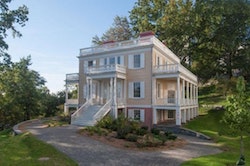 This tour is currently sold out. If you would like to be placed on the waitlist, please email jcloutier@thehort.org
Join The Horticultural Society of New York and the ICAA for an exclusive tour of Alexander Hamilton's Harlem home and garden led by Stephen Spaulding, Director of the National Park Services' Historic Architecture, Conservation, and Engineering Center. Stephen has been involved with the Hamilton Grange Project since 1990 and led the two-part relocation and restoration project completed in 2011. The tour and lecture will include topics such as the history of the Grange from the Revolutionary War to 1960, landscape and siting decisions, and exterior and interior restoration. There will be a light reception following the tour.
Location: 414 West 141st Street, New York (Hamilton Grange National Memorial, in Saint Nicholas Park). The Memorial sits between Convent Avenue and St. Nicholas Avenue.



Cost/Reservations: $20 General Admission. Registration is required, and tickets can be purchased through Eventbrite.