Lectures, Tours, Events
ICAA at Work: Jonathan Burden
Tuesday, September 26, 2017; 6:30 P.M. - 8:30 P.M.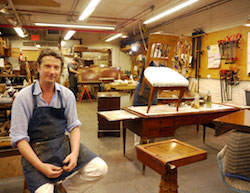 Registration for this event is now closed. If you have any questions, please contact programming@classicist.org.
ICAA at Work is a recurring opportunity for ICAA members to interact with the New York region's vibrant community of showrooms, workshops and studios. In a convivial social setting, participants can learn more about the host organization, see their work first-hand, and meet and speak with the people behind the works they create and purvey.
Please join ICAA members on Tuesday, September 26th for a visit to the Jonathan Burden Gallery. Growing up in the countryside of Yorkshire, England, Jonathan Burden was surrounded by antique furniture whether at the local church or a stately country house. A boyhood visit to a local restorers workshop, with its distinct smell of wood shavings and drying varnishes, sparked a passion that eventually lead to formal training at the venerable West Dean College in Sussex. Upon graduating from West Dean, Jonathan worked in London for the renowned dealer Ronald Philips. Arriving in New York City in the mid 1980s, Jonathan worked for Sotheby's auction house. Jonathan opened his own shop in the West Village in the mid 1990s and then was the first dealer to open a gallery on Duane Park in Tribeca with his business partner Benjamin Izett. The latest move, occurring in 2016, has brought the gallery and restoration workshop to Long Island City.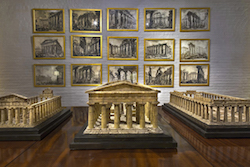 The gallery houses an eclectic and striking collection of both antique and and contemporary decorative arts. With an emphasis on scale, quality of materials, surface and construction the inventory is hand-selected from many sources, local and far. The company's contemporary line, BURDEN Contemporary, sources local talent and skills from artists, blacksmiths, ceramicists, glass blowers and cabinet-makers to bring unique contemporary furniture and decorative arts to its clients, ensuring a close, collaborative relationship between artist, gallery, and client.
Location: Jonathan Burden Gallery, Redstone Building, 47-20 33rd Street, Long Island City, NY 11101
Cost/Reservations: Space is limited and reservations are required. Free and open to ICAA and Sir John Soane's Museum members only.
Getting There:
By car from Manhattan, the gallery is moments away from exit 13 of interstate 495 East and one block from Queens Boulevard.
By train, they are one block away from the 33rd Street station of the number 7 subway line.