Lectures, Tours, Events
ICAA at Work: Remains LightingRegister Now!
Thursday, September 14, 2017; 6:30 P.M. - 8:00 P.M.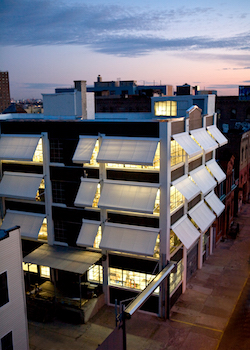 ICAA at Work is a recurring opportunity for ICAA members to interact with the New York region's vibrant community of showrooms, workshops, and studios. In a convivial social setting, participants can learn more about the host organization, see their work first-hand, and interact with the people behind the works they create and purvey.
Please join ICAA members on Thursday, September 14th from 6:30 P.M. to 8:00 P.M. for ICAA at Work, at the Brooklyn workshops of Remains Lighting. For over 20 years, Remains has established itself with high quality work. Beginning with antique restoration, Remains soon added made-to-order and custom lighting at its flagship showroom on 28th St, and in showrooms in Greenwich, Chicago, Los Angeles, and London. More recently, Remains began offering mirrors, fireplace accessories, and candlesticks in addition to its LED, gas-lit, and incandescent lighting designs.
Remains designs, engineers, and manufactures everything in its LEED-Gold certified factory in Bushwick, Brooklyn using sustainable practices and a combination of traditional metalworking skills and technology. Remains renovated its 1920's four-story industrial factory building to LEED-Gold standards in 2008, with a light hand and emphasis on sustainability. The rooftop boasts a view of the Manhattan skyline over the solar panels that power roughly one third of Remains' consumption.
A tour of the factory will be led by Remains owner David Calligeros, who will elaborate on the processes involved in creating fine metalwork and custom lighting.
Location: Remains Lighting, 21 Belvidere St, Brooklyn, NY 11206
Cost/Reservations: Space is limited and reservations are required. Free and open to ICAA members and students only.