Lectures, Tours, Events
ICAA on the Boards: Ike Kligerman Barkley
Thursday, June 8, 2017; 6:30 P.M. - 8:00 P.M.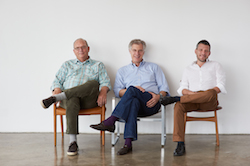 Registration for this program is currently closed. If you have any questions, please contact programming@classicist.org
ICAA On the Boards is a new recurring opportunity for Institute members to visit the offices of NY region member firms and see work in progress, learn more about the offices' organizational infrastructure and design processes and socialize with principals and associates.
Please join us on Thursday, June 8th at 6:30pm for the next ICAA on the Boards event at the offices of Ike Kligerman Barkley (IKB), an award winning New York firm whose architecture and interior departments work throughout history and across styles, always seeking to enhance life through good design. In its 25 years, IKB has designed buildings across the country and around the world: a Georgian townhouse in the River Oaks neighborhood of Houston; a mountain lodge in Aspen; a loft in a repurposed butter factory in Manhattan; a vernacular white villa in Cabo San Lucas; a Romanesque building on Stanford's campus; and a rambling, weathered shingle house in Martha's Vineyard.
IKB realizes its projects through traditional handicraft and cutting-edge processes. Structures are imagined in impressionistic watercolors and communicated through sketches; they are also digitally rendered and designed using the latest technologies, including an in-house 3D printer. From these initial designs through construction, they focus on selecting the best materials. Enduring material integrity is a hallmark of IKB's work.
Location: Ike Kligerman Barkley, 330 West 42nd Street, New York, NY 10036
Cost/Reservations: Space is limited and Reservations are required. Free and open to ICAA members and students only.