Lectures, Tours, Events
ICAA on the Boards: Peter Pennoyer Architects
April 27, 2017; 6:30 P.M. - 8:00 P.M.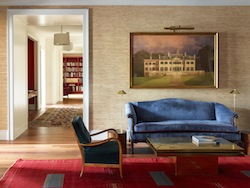 This program is currently sold out. To be placed on the wait list, please email development@classicist.org.
ICAA On the Boards is a new recurring opportunity for Institute members to visit the offices of NY region member firms and see work in progress, learn more about the offices' organizational infrastructure and design processes and socialize with principals and associates.
Please join us on Thursday, April 27th at 6:30pm for the next ICAA on the Boards event at the offices of Peter Pennoyer Architects, an award-winning New York-based firm that practices classical architecture for residential, commercial, and institutional clients worldwide. Peter Pennoyer, FAIA and his partners, Jennifer Gerakaris, AIA, Elizabeth Graziolo, AIA, Thomas Nugent, AIA, and James Taylor, AIA, and the firm's Director of Design, Gregory Gilmartin, have mastered traditional architecture in commissions ranging from restorations of historic properties to new houses across the country and abroad. The firm's efforts have led to diverse project types, spanning from a 17-story condominium tower in Manhattan influenced by the prewar architecture of Delano & Aldrich and Rosario Candela, to new classical villas in Hong Kong and an estate in Ohio that draws on both the American Arts & Crafts tradition and Czech Cubism.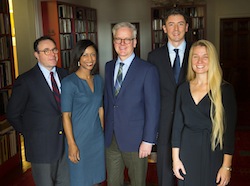 The firm has been an early adopter of digital tools while emphasizing hand drawing and painting as its primary design methods. In 2012, the firm embraced in-house 3D-printing and in 2014, licensed computer code embedded in gaming programs to augment 3D modeling. More recently, clients are offered full 3D VR experiences of their commissions. Peter Pennoyer Architects is on Architectural Digest's AD100 list of the world's best designers and architects.
Location: Peter Pennoyer Architects, 136 Madison Avenue, 11th Floor, New York, NY 10016
Cost/Reservations: Space is limited and Reservations are required. Free and open to ICAA members and students only.
Photo: Peter Pennoyer Architects Office – Reception Hall
Photo Credit: Jay Ackerman, Eric Piasecki