Lectures, Tours, Events
Learning from Letarouilly: Teaching Classical Architecture in Rome
Monday, May 15, 2017; 6:30 P.M. Reception, 7:00 P.M Lecture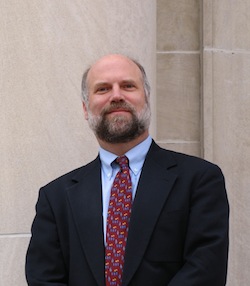 This event is currently sold out. To be placed on the wait list, please contact programming@classicist.org
The ICAA is pleased to present a lecture with Steven W. Semes, in which he will discuss Paul Letarouilly's Edifices de Rome Moderne.
There is no better place to study classical architecture than Rome, and no better textbook than Paul Letarouilly's Edifices de Rome Moderne. This multi-volume folio of mid-nineteenth-century plates with measured drawings and perspective views of the monuments of the Eternal City offers historical documentation of multiple building types at all scales—from the monumental facade to the decorative detail—as well as offering incomparable examples of graphic representation. The perspective views are especially illuminating and have long captured the imaginations of architects. Students fortunate enough to study the great works in situ will find it even more rewarding with the book in hand. With the release of a new single-volume high-quality edition, Letarouilly's masterwork is more useful than ever.
Steven W. Semes is Professor of Architecture and Director of the Graduate Program in Historic Preservation at the University of Notre Dame School of Architecture. He was Academic Director of the Notre Dame Rome Studies Program 2008-2011 and currently splits his teaching duties between Rome and the main campus. Educated at the University of Virginia and Columbia University, he is the author of The Future of the Past: A Conservation Ethic for Architecture, Urbanism, and Historic Preservation (2009) and The Architecture of the Classical Interior (2004). His many articles have appeared in The New Criterion, National Trust Forum Journal, Change Over Time, the Classicist, Traditional Building and Period Homes. He has been profiled in the Wall Street Journal and the New York Times. His blog, The View from Rome appeared from 2010 to 2015. From 2013 to 2015 he was Editor of the Classicist for the ICAA, and was a member of the ICAA faculty from 1997 to 2005. His current research focuses on the traditional architects of the inter-war period in Rome. Prior to joining the Notre Dame faculty in 2005, he practiced architecture for over thirty years in New York, San Francisco, and Washington, DC.
Location: The ICAA's Library at 20 West 44th Street, Suite 310, New York, NY
Cost/Reservations: Free for ICAA members, $30 General Admission.