Lectures, Tours, Events
Lecture and Book Signing with Russell Windham
Monday, June 19, 2017; 6:30 P.M. Reception, 7:00 P.M. Lecture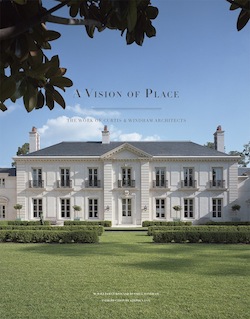 Registration for this event is now closed. If you have any questions, please contact programming@classicist.org
The Institute of Classical Architecture & Art (ICAA) is pleased to announce a lecture and book signing with Russell Windham, principal of Curtis & Windham Architects and ICAA Board Chairman, on Monday, June 19, 2017. Russell will be discussing the book, A Vision of Place: The Work of Curtis & Windham Architects.
Since the beginnings of their architectural practice in 1992, William Curtis and Russell Windham have dedicated their work to the principle that classical architecture, in its best sense, should embody the same rigor, the same attention to surroundings, and the same thoughtful approach to design theory that fuel the most forward-looking styles and movements. This notion may seem obvious to casual onlookers, but, in the words of architectural historian Stephen Fox, "In twenty-first century Houston, this conservationist attitude is revolutionary."
In this graciously appointed book, Curtis and Windham, with contributions from some of their associates, reflect on more than two decades of the practice of classical contemporary architecture, providing an expansive view of eighteen representative projects that range from a small backyard garage-studio in an unassuming neighborhood near Rice University to large dwellings situated in Houston's River Oaks, and even including multi-building, country retreats.
Opening with a contextualizing introduction by esteemed architectural historian Stephen Fox, A Vision of Place documents the authors' quiet assertion that carefully considered work performed along traditional lines can be, in its own way, groundbreaking. Curtis and Windham demonstrate the versatility of classical ideals and methods for instilling a contemporary resonance of place in urban, suburban, and even rural contexts.
William Curtis and Russell Windham have received both regional and national recognition. Their homes and garden designs have been featured in Architectural Digest, Southern Accents, Period Homes, and other publications.
Location: The General Society Library, 20 West 44th Street
Cost/Reservations: Free for ICAA Members; $30 General Public. Reservations are required.