Lectures, Tours, Events
Members' Reception
Tuesday, July 18, 2017; 5:30 P.M. - 7:30 P.M.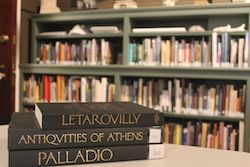 Registration for this event is now closed. If you have any questions, please contact membership@classicist.org.
Please join the Institute of Classical Architecture and Art (ICAA) for an evening in celebration of our members!
We invite all members to spend the evening exploring our 3rd Floor Library and touring our Cast Hall on Tuesday, July 18. Learn about our historic plaster cast collection, which was deaccessioned from the Metropolitan Museum of Art in 2004, and browse through our 3rd Floor Library, which features rare books and special collections about classical architecture and art, as well as urbanism and architectural history.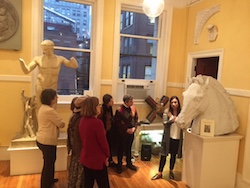 Membership support directly impacts our ability to offer unique programming, courses, and publications of the highest possible quality. We are pleased to open our unique office and gallery spaces to our members in appreciation for the wonderful contributions, inspiration, and vision they lend to our organization.
For more information on our historic plaster cast collection, visit our website. We also invite you to learn more about our Library.
Not an ICAA member yet? Please visit our website.
Location: 20 West 44th Street, Suite 310, New York, NY 10036
Cost/Reservations: This event is free and for members only. Reservations are required.