Lectures, Tours, Events
Ornament is Virtue with Matthew McNicholas
Thursday, June 29, 2017; 6:30 P.M. Reception, 7:00 P.M. Lecture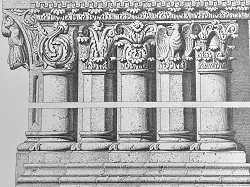 This program is currently sold out. To be placed on the wait list, please email programming@classicist.org.
The ICAA is pleased to present a discussion with Matthew McNicholas, AIA, who will be speaking on how ornament (that which beautifies our built environment and adds grace to our buildings) plays a far more important role in our everyday experience than previously understood or acknowledged. Matthew will present the science-based case for the use of ornament in architecture, considering whether a building could make you healthier, smarter, and happier.
Matthew McNicholas, AIA, is a Principal with MGLM Architects in Chicago. Matthew regularly conceives and executes ornamental and decorative programs and designs for all building types, and has served extensively as a thematic, decorative, and ornamental consultant. A published and awarded artist and designer, he currently heads the Preservation Committee of the Auxiliary Board for Louis Sullivan's Auditorium Theatre. Matthew is a graduate of the University of Notre Dame, where he received his Bachelors of Architecture and Masters of Architectural Design and Urbanism.
Location: The ICAA's Library at 20 West 44th Street, Suite 310, New York, NY
Cost/Reservations: Free for ICAA members, $30 General Admission. Reservations are required.
Special thanks to our lecture sponsor, Hyde Park Mouldings