Habitat for Humanity Pattern Book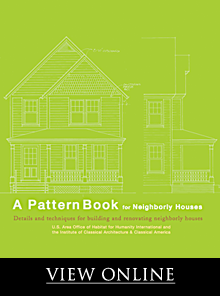 The Institute of Classical Architecture & Art and the U.S. Area Office of Habitat for Humanity International have embarked upon a national collaboration, with architects selected jointly by the ICAA and Habitat, to design Habitat homes that fit within the context of both local communities and regional architectural traditions.
More than building new affordable houses, Habitat for Humanity International's mission is to help people build new lives. The strength of our democracy is based on individual economic achievement and social mobility. Traditional American neighborhoods provided a range of types and cost of housing, all within a walking distance of daily services, schools and churches. This mix provided role models for success that served to inspire young people. It ensured the long term stability of the community by providing life-long housing options for people: small inexpensive housing for those beginning their careers, larger family houses when children come along, smaller urban housing for empty nesters, and assisted living for the elderly. Studies have demonstrated that over time the social capital created in such neighborhoods is a key in community stability and the health of its residents. Each house built has two roles: one to provide adequate shelter and the other to become part of a neighborhood. The architectural character of the exterior of the house is the most critical part of its design in fulfilling its responsibility to the community.
Development practices over the course of the last 60 years have eroded, and in some places obliterated, this great American tradition. Instead of building mixed-income neighborhoods, we have built single-income subdivisions isolated from each other. While nobly motivated, much of the low-cost housing built in many communities has been clearly identifiable as different from other housing. Public housing projects may be the most obvious example. And as Habitat affiliates increase their production, the challenge of striking the balance between building simple, decent homes and designing homes to fit the fabric of the surrounding neighborhood intensifies. Communities may resist the construction of housing that doesn't match the existing neighborhood style because they fear for their property values. Therefore, the goal of this Pattern Book for Neighborly Houses is to provide both an operating manual and prototype house designs that will enable Habitat for Humanity affiliates to design houses that build strong neighborhoods as well as affordable accommodations for the future homeowner.
View the full Pattern Book online
A hard copy edition of the Pattern Book is also available for purchase through the ICAA. To order the full text, complete this order form.
The ICAA thanks the following organizations for their support of this project:
Bernard F. & Alva B. Gimbel Foundation, Inc.
Habitat for Humanity International
Prince of Wales Foundation
Surdna Foundation
This project is supported in part by an award from the National Endowment for the Arts.