Classicism in the Caribbean: Great Houses & Gardens of Barbados (sold out)
February 11 - 18, 2017
Tour arranged by Classical Excursions
THIS TOUR IS CURRENTLY FULL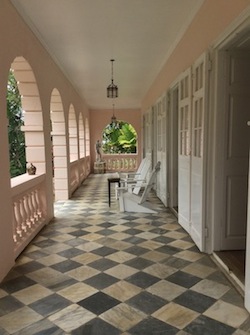 Of all the British Caribbean islands, Barbados boasts the largest array of preserved buildings and great houses reflecting the influence of British Georgian/Palladian architecture. Colonization of the Caribbean left its mark not only through immigration and wealth but also through the architecture left behind. The explosion of wealth generated from the booming sugar industry ensured that after a series of hurricanes and fires, Barbados was rebuilt in high style, heavily influenced by British Georgian architecture.
The Georgian and Palladian influence seen in Barbados' many public buildings from the 18th century, such as Government House in Bridgetown, had a lasting impact on the subsequent vernacular architecture of Barbados. It can be seen in the detailing on plantation or "great houses," right down to the simplest of wooden so called "chattel houses." Chattel houses were the vernacular expression of economical portable and expandable housing for the average "Bajan" working class person.
In Barbados, the fusion of classical elements from the British Georgian architecture, such as arches, quoins and arcades, meld beautifully with the more traditional Caribbean features such as the demera window and bell pelmet hoods. This unique fusion has created what we refer to as "Caribbean Georgian" architecture. A typical "Bajan" or Barbadian house features verandas enclosed by a series of fixed demera windows (a feature borrowed from Guyana). The demera window is a full-length window hinged at the top and pushed out for ventilation.
The bell pelmet or hood is also a typical Bajan feature found on the vernacular buildings of Barbados. A series of arcades or arches and double staircases also show the Georgian influences. Coral stone blocks were most commonly used on the older houses. After slavery was abolished in the Caribbean, cargo ships coming to the islands replaced African slave cargo with either brick or timber ballast. Hence, the appearance of wooden and masonry houses became more frequent in Barbados.
During the height of the sugar industry, the island was depleted of its timber and replaced by plantations producing sugar. Barbadians were henceforth dependent upon timber from other countries for building. Even today many of the newer buildings on the island clearly incorporate many historic features such as jalousied demara windows, quoins, arches and the typical Bajan bell pelmet hood over the window.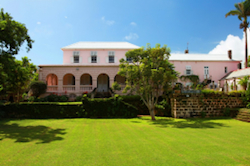 Classical Excursions and The Institute of Classical Architecture & Art invite you to join us on this exclusive week-long exploration of Barbados' finest and most historic Caribbean Georgian classical homes and public buildings. Visits to rarely seen Barbadian homes such as Leamington House, where Oliver Messel stayed during the restoration of his own house Maddox House. Leamington, originally a plantation house from the 1830s was purchased by Messel's friend Jack Heinz (of the Heinz Corporation), and redecorated by Messel. Oliver Messel then went on to design a garden pavilion on the estate to serve as a guest-house and banquet hall. Hollywood icons such as Greta Garbo were entertained at Leamington throughout the years.
Clifton Hall, Drax Hall and Halton House are just a few of the other privately owned Great houses that we will be visiting on this exclusive excursion. The tour also includes visits to Fustic House and Maddox House. These historic properties are the legacy of Oliver Messel, legendary British set designer, artist, architect and interior designer, who with clever style and flair achieved designs of incredible adaptability.
We are very fortunate to have Senator Sir Henry Fraser lead our exclusive tour. He is the foremost expert on Barbadian architecture and ambassador of historic preservation on this beautiful island, having written numerous books on architecture including Historic Houses of Barbados. A lecture by Sir Henry, as well as talks by representatives from the National Trust of Barbados, are special highlights of this exclusive travel program.
Our luxurious accommodations are at the Crane Resort, located on a secluded part of the island directly on Crane Beach, voted one of the top ten most beautiful beaches in the world. A favorite quote about Barbados and the Crane comes from Raymond Savage from his book titled Barbados on the Crane 1936: " The air is incomparable….and its beneficial, ozone laden wind soon produces a feeling of intense exhilaration and peace to even the most brain-weary or physically ill of mortals."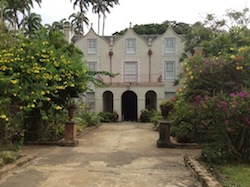 Meals include dinners and lunches in private homes and exclusive restaurants such as the Sandy Lane Resort. The Sandy Lane sugar plantation and Great House was purchased by Ronald Tree shortly after building Heron Bay. He later expanded Sandy Lane and opened it as a five-star luxury resort. Celebrities from around the world frequent Sandy Lane. There will also be a bit of time to enjoy the beautiful Crane Beach.
For further information, please contact contact@classicalexcursions.com, 413-243-4155.
Tour price $4000.00 per person based on double occupancy/garden-view suite, $4600.00 per person based on double occupancy/ocean-view suite. Single supplement applies.
A fully tax-deductible donation of $500 per person is required in order to participate. To make your contribution to the ICAA now, please use this link.
Image Credit: Lani Summerville