Discovering the Treasures of Bordeaux: Exemplary 17th to 21st Century Architecture, Decorative Arts, Châteaux & Gardens
June 17 – 23, 2012
Arranged by Pamela Huntington Darling, Exclusive Cultural Travel Programs
A connoisseur's journey, with exclusive access to private homes and properties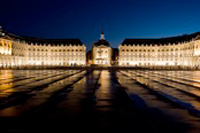 The City of Bordeaux, Port of the Moon, is described by UNESCO World Heritage as "an inhabited historic city, an outstanding urban and architectural ensemble, created in the Age of Enlightenment, whose values continued up to the first half of the 20th century."
The Bordeaux region, a place of exchange and commerce for over 2,000 years, thanks in part to its production of its fine wine, has, after Paris, more edifices on the national list of Historic Monuments than any other city in France, priding majestic Neo-Classical buildings, several of which influenced Classical architecture in the United States, such as the James B Duke House, now NYU's Institute of Fine Arts, listed on the U.S. National Register of Historical Buildings, modeled after Hôtel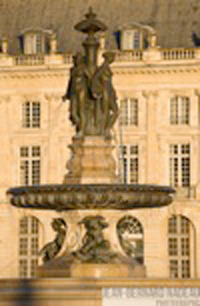 Labottière, or the great Ogden Codman house in New York, inspired by several houses he had admired in Bordeaux.
The creation of Bordeaux' unique ensemble of 18th century public buildings, residences, streets and squares, considered purer and more perfect than many examples in Paris, is a tribute to the philosophers of the French Enlightenment who influenced by their beliefs the city's planning: to produce admirable buildings—theatres, town halls, other official sites, and private mansions—in an imposing planned setting—with squares, parks, walks, fountains and inspiring perspectives.
By the middle of the 18th century, ancient Greece and Andrea Palladio became the principal references to the new "Neo-Classical style". 20th and 21st century architects have continued in this honorable tradition designing remarkable buildings in Bordeaux and its wine region.
During our exclusive architectural and decorative arts program, lead by our expert lecturer, we will visit the most significant examples of classical architecture of the 18th century, majestic buildings and town houses in the historic center of Bordeaux, and be received by prominent officials.
We will also enjoy privileged visits, luncheons or dinners with our hosts at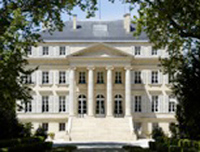 Bordeaux's most significant chateaux celebrated for their architecture—ancient and contemporary—and for their fine wine, such as: Chateau Cheval Blanc, featuring a wine cellar created by architect Christian de Portzamparc; Chateau Saint-Georges, designed by Victor Louis, classical architect of the exemplary 18th century Grand Theatre of Bordeaux; Chateau Lafite Rothschild, whose circular wine cellar with Neo-Classic pillars was designed by architect Ricardo Bofill; Chateau La Mission Haut Brion, including a cloister, a 17th chapel, and a remarkable garden; and Château Margaux, celebrating pure Palladian style, interior decor recently renovated by French classical architect Francois-Joseph Graf.
We will reside at the 5-star luxury Grand Hotel de Bordeaux & Spa, a French Historic Monument, member of the "Leading Hotels of the World". Situated on a superb square, the hotel, part of the late 18th century development of the city center, was designed by classical architect Victor Louis, also responsible for the Grand Theatre, located on the opposite side of the square. The recent restoration was achieved respecting the rich historic past of the building. The sophisticated interior decoration, recently renovated by famed decorator Jacques Garcia, was inspired by classical French tradition.
The Institute of Classical Architecture & Art and Pamela Huntington Darling, specializing in organizing inimitable cultural travel programs, welcome you to join us for this exclusive cultural program.
Click here for complete tour highlights
Tour Price: Land cost based on double occupancy: $6,000 per person; single supplement: $750; based on an exchange rate of $1.35/1 Euro; a minimum of 15 participants (maximum 20 participants); plus a $500 fully tax-deductible donation to the Institute.
Rate includes: 6 days of private visits and receptions; 6 nights of hotel accommodations at the 5-star luxury Grand Hotel de Bordeaux & Spa; 6 breakfasts; 4 luncheons and 4 dinners; transportation to and from events; all private visits, and expert lecturers.
To assure availability, please reserve now. Confirmation will be treated according to date of your registration.
For more information or to register, please call +33 1 45 67 62 81 or email: pdarling@exclusiveculturaltours.com.
Members at the Contributor or Sole Practitioner level or higher are welcome to attend our tours. Members at the Donor level and higher receive Priority Registration E-alerts before the general public. Join online today or call (212) 730-9646, extension 104 to upgrade your membership.
Second Image: Place de la Bourse, Jean-Bernard Nadeau, photographer