Genoa, Turin & Milan: Exceptional Private Estates, Gardens & Historic Sites with optional extension
October 14-21, 2017
Tour arranged by Exclusive Cultural Tours
Optional Extension: The Lakes – Saturday, October 21st to Wednesday, October 25th (departure): 4 days / 4 nights
The Institute of Classical Architecture & Art is pleased to offer this exceptional tour, during which we will be received by members of the Italian cultural elite for exclusive visits of historic, emblematic estates, offering a rarer opportunity to savor unique architecture, decor, art collections and gardens.
Highlights of the tour include:
Private visit to the gardens of the Agnelli family residence, Villar Perosa, one of Italy's most splendid examples of garden design, with Paolo Pejrone, student of Russell Page and among Italy's leading garden designers


Private visit to the Castello Mackenzie, a historical manor offering a perfect example of Gothic Revival architecture. Built between 1893 – 1905, it was designed by Gino Coppedè, renowned Art Nouveau architect


Visit to Palazzo Reale in Genoa


Exclusive visit to Cenacolo Vinciano to view The Last Supper, painted by Leonardo da Vinci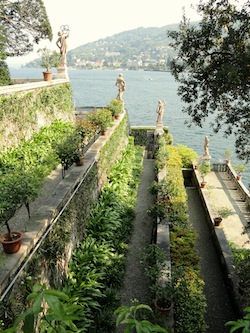 Private visit to the Villa Silvio Pellico, a magnificent 18th Century villa with an extraordinary garden designed by Russell Page. No other classical garden in Europe by Page better illustrates his extraordinary ability to interpret the nature of a site than the Villa Silvio Pellico


Exclusive visit to La Venaria Reale and its "Garden of Fluid Sculptures" by Giuseppe Penone, world-renowned master of the Arte Povera movement


Lunch at the private residence of Donna Patrizia Sandretto Re Rebaudengo and visit to the Fondazione Sandretto Re Rebaudengo, Turin's most recognized venue of contemporary art


Private visit to the Villa Litta-Borromeo-Visconti Lainate, offering an exceptional variety of mosaics, statues, frescoes and fountains


Truffle discovery and tasting at a private estate, during the Alba White Truffle Festival


Private visit & luncheon with Count Jacopo Cicogna Mozzoni at his magnificent Villa Cicogna Mozzoni on Lake Maggiore, featuring one of the most elaborate gardens of northern Italy, displaying unique Renaissance frescoes


Private visit to Villa Balbianello on Lake Como, where the natural setting on a promontory and the architectural harmony of the villa and garden make for one of the most impressive gardens of the area


For more information and to register: Please email Pamela Huntington Darling: pdarling@exclusiveculturaltours.com; or call (Paris, France) Tel. +33 1 45 67 62 81. Website: www.exclusiveculturaltours.com
Please note a fully tax-deductible donation of $500 per person is required to participate in this Travel Program.
Image Credit: Wikimedia Commons/Casalmaggiore Provincia, Wikimedia Commons/Daderot