Private Palaces and Villas of Florence
April 24 - 29, 2018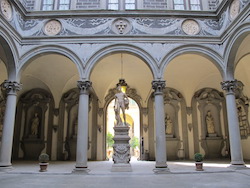 Tour arranged by Martin Randall Travel
The ICAA is pleased to partner with Martin Randall Travel to offer this exclusive tour of private palaces and villas of the Florentine Renaissance, along with Medieval, Baroque, Neo-Classical, and 19th-century architectural examples. This tour will be led by Professor Fabrizio Nevola, Chair and Professor of Art History and Visual Culture at the University of Exeter, specializing in urban and architectural history of Early Modern Italy.
Tour highlights include:
Visit to the Palazzo Vecchio, a sturdy fortress at the civic heart of Florence with outstanding interiors and lavish frescoes by Ghirlandaio in the sala dei gigli and by Bronzino in the Chapel of Eleanor of Toledo


Visit to the Palazzo Lanfredini, home to the British Institute where the Director will host a talk with a drinks reception


Tour of Palazzo Davanzati, built in the second half of the 14th century in one of the oldest quarters of Florence, as well as the 15th century Palazzo Strozzi and Palazzo Rucellai, which demonstrates the introduction of Greek and Roman features to Florentine palaces in the 1440s by Leon Battista Alberti


Private visit to Palazzo Budini Gattai, designed by Renaissance architect and sculptor Bartolomeo Ammannati


Visit to the Bargello, a medieval palazzo, which houses Florence's finest sculpture collection with works by Donatello, Verocchio, and Michaelangelo


Visit to the Palazzo Marucelli Fenzi by special arrangement, constructed for the Castelli family in the 16th century by Gherardo Silvani and later enlarged by the Marucelli family. This palazzo contains paintings by Sebastiano Ricci


Tour and lunch hosted by the owner at Palazzo Corsini al Prato, acquired in 1621 by Filippo Corsini, with most of the palace and gardens dating to his refurbishment of the property


A day in the hills and countryside surrounding Florence, including a visit to and lunch at Villa Poggio Torselli, a 17th century house which has recently undergone award-winning restoration


Visit to Villa Gamberaia, one of the loveliest gardens in Italy located in picturesque Settignano, as well as Villa La Pietra, created by Arthur Acton which as one of the largest Anglo-American gardens set in 57 acres with fine vistas, a green theater, and 180 statues


Special visit to the baroque Palazzo Corsini al Parione, the main facade of which faces the Arno


Tour of the Uffizi which has masterpieces by every major Florentine painter as well as international Old Masters


Visit to the privately owned Palazzo Gondi by special arrangement, designed in 1490 by Giuliano de Sangallo, the favorite architect of Lorenzo de Medici


Visit to the chapel in the Palazzo Medici-Riccardi with exquisite frescoes by Benozzo Gozzoli
Accommodations include a stay at the 5-star Hotel Savoy, located centrally in the prestigious Piazza della Repubblica, a short walk from the Uffizi and the Duomo.
For booking, please visit Martin Randall's website or call 800.988.6168.
The tour price is $4,109* (£3,190) per person based on double occupancy. Single occupancy is $5,010* (£3,890). Please note a fully tax-deductible donation of $500 per person is required to participate in this program.
*Please note the approximate USD amount listed is based on exchange rates as of August 18, 2017.
Make your donation here.
Image Credit: Wikimedia Commons/Ho Visto Nina Volare, Pixabay, Flickr/Gary Ullah, Wikimedia Commons/Terrasque
All Travel Program participants receive a complimentary Individual level membership for one year to the ICAA.