Private Palm Beach - Sold Out
December 3 - December 6, 2017
This tour is currently sold-out.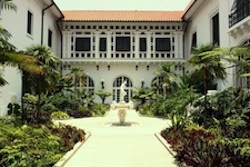 Tour arranged by Classical Excursions
We have wealthy industrialist Henry Flagler to thank for founding the town of Palm Beach, Florida. Attracted by the area's warm, balmy weather and tropical environment, Flagler, whose own estate Whitehall, designed by Carrère and Hastings in 1902 and is still visited by the public, helped establish Palm Beach as a premiere locale for the winter social season. It soon became a resort town with lavish hotels and opulent residences designed by such architects as Addison Mizner, Maurice Fatio, Howard Major and Clarence Mack.
Over 100 years of graceful evolution that has never faltered, Palm Beach is world-renowned for its extraordinary beauty and quality of life. The Institute of Classical Architecture & Art invites you to join this Private Palm Beach tour of some of the city's most significant homes and interiors.
For further information, contact Tom Hayes, contact@classicalexcursions.com, 413-243-4155.
Please note a fully tax-deductible donation of $500 per person is required to participate in this Travel Program.
Image Credit: Flickr / Ray_LAC
All Travel Program participants receive a complimentary Individual level membership for one year to the ICAA.