Rome Drawing and Painting
June 11 – 18, 2011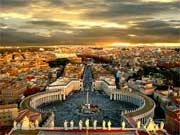 Don't miss this opportunity to experience Rome while honing your observational drawing skills. Participants at all levels will be provided with a practical knowledge of the classical tradition as manifested in Rome, instruction in Italian art and architecture, and ample opportunity for the observation and representation of classical architecture. Experienced instructors of the Institute and affiliated institutions lead this signature study and drawing tour; the tour is open to all architects, artists, and like-minded individuals.
Application Deadline EXTENDED: April 15, 2011.
For further details or questions, please contact rometour@classicist.org.
INSTRUCTOR
BIOS
Richard Wilson Cameron
Richard Cameron was educated at the University of Toronto and Princeton.  He also spent a year in Rome teaching for the University of Notre Dame's Rome Studies Program.  In 1992 Richard co-founded the Institute of Classical Architecture (now the Institute of Classical Architecture & Classical America). Richard has taught drawing and the history of architectural theory at the Institute since its foundation, and currently serves on the board of Directors as its Vice-Chairman.  He is also the Chairman of the Institute's Education Committee.  He was awarded first prize in the Royal Oak Foundation's Annual Architecture Competition in 1993.  His work has appeared in House and Garden; The New York Times; Period Homes; New Old House; Traditional Building; and various other books and journals throughout his career.  
Michael Djordjevitch
Michael Djordjevitch studied Architecture at the University of Toronto, receiving his B. Arch in 1979.  He then worked at the Royal Ontario Museum and taught at the School of Architecture of the University of Toronto, while taking courses in Art History.  His principal teacher was Prof. Hans Luecke.  In 1988 he was accepted into the History and Theory Program of the School of Architecture of Princeton University, receiving his Masters in 1991.  The following year he was received into the Graduate Program of the American School of Classical Studies in Athens, completing the program and becoming a Fellow of the School in 1993.  Throughout the 90's he worked as one of the two Architects for the Agora Excavations of the American School of Classical Studies in Athens.  In 2001 be began to teach for the Architecture Program of the University of Notre Dame in Rome.  Following the completion of his term in 2003, he was invited to the home campus as a visiting critic for the next several years. 
Patrick Connors
Patrick Connors is a 1980 graduate of the Pennsylvania Academy of the Fine Arts, Certificate Program. There, he studied primarily under Arthur DeCosta and was awarded the Perspective Prize. In 1982 he graduated from the University of Pennsylvania. His work is exhibited internationally and in the past decade has been in solo or group venues at the National Academy of Design, New York Academy of Art, Butler Institute of American Art, Meredith Long & Company, Pierrepont Fine Arts, Arcadia Gallery, and Hirschl & Adler Galleries. His paintings, drawings, designs, and murals are included in private and public collections. In 2002, Connors was awarded an Oxford University Summer Residency Fellowship in painting and anatomy. In 1998 he was awarded a Pollock Krasner Foundation Grant for painting and in 1999 was the select alternate for a Senior Research Fulbright Scholarship for Italy. He teaches in the Graduate School of the New York Academy of Art, Grand Central Academy of Art, Institute of Classical Architecture, Studio Incamminati, and the Pennsylvania Academy of the Fine Arts. Among the institutions at which he has lectured are Yale University Art Gallery, Water Street Atelier, Drexel School of Medicine, Classical America: Philadelphia Chapter, the Philadelphia Museum of Art. In fall 2009 he was a visiting artist at Savannah College of Art and Design.
Instructors:
Cost/Learning Unit:
Cost: $2,400 ($2,150 Members).
Includes cost of instruction, lecture fees, day trip fees, opening reception and closing dinner, museum entrance fees, and double accommodation. A limited number of single rooms are available for an additional supplement. Prices are subject to change due to currency exchange rates.
Learning Units: 40 (15 HSW) AIA/CES LUs
(Theory and Manual Skills)